Welcome to Mr Crashcart
Mr CrashCart strives to make life easier for its customers - and to make crash carts safer for the patients who depend on them. Because we keep a narrow focus on emergency medications and supplies, our knowledgeable staff is able to devote 100% of their attention to your crash cart needs. Learn More...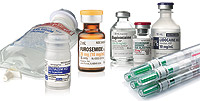 Latest store news
We have heard you!
Mr Crashcart's website is now "responsive." That means you can find and buy the healthcare products and crashcart meds you need on your computer, phone tablet or any device.